Table of Contents
Natural disasters are common in Texas due to the state's vast terrain and diverse weather patterns. Hurricanes, floods, and tornadoes are some of the natural disasters that can severely impact businesses in Texas. Business owners in the Lone Star State should be prepared for unexpected events and know how to handle insurance claims in case of a disaster.
In this three-part blog series, we will look at how Texas businesses can prepare for and manage insurance claims when faced with hurricanes, floods, and other natural disasters. Additionally, we will give you a quick rundown of Lopez Auto Insurance and how our policies can protect your business in an emergency.
Hurricanes: Are You Prepared?
The Texas coastline is frequently threatened by hurricanes, which have the potential to harm commercial properties seriously. Your company can take the following actions to get ready for hurricanes:
Examine and update your insurance protection
Examine your commercial insurance policies carefully before the start of hurricane season. Make sure you have business interruption, property damage, and any additional coverage that may be needed for hurricane-related losses. Consider raising your coverage limits if necessary to adequately protect your assets.
Produce a plan for disaster preparedness
Create a thorough disaster preparedness plan for your company. This should cover emergency response plans, communication strategies, and an established chain of command. Make sure that everyone on staff is aware of the plan and practices it regularly.
Guard your material possessions
To stop water damage, put in place physical safeguards like strengthening windows and doors, securing loose items, and elevating electrical equipment. This will lessen the possibility of hurricane-related property damage.
List all of your assets
Keep a complete inventory of your company's assets, complete with pictures, serial numbers, and purchase history. When submitting an insurance claim, this supporting documentation will be crucial.
Keep Critical Documents Secure
Keep important papers off-site in a safe place, such as contracts, insurance policies, and financial records. In order to ensure access in the event of physical document loss, digital backups are also advised.
Floods: Are You Covered?
Flooding can happen as a result of heavy rain or river overflow, in addition to hurricanes. Here are some tips to make sure your company has enough insurance:
Be aware of your flood risk
By using FEMA flood maps or consulting a specialist, ascertain the flood risk for your company. Selecting the right flood insurance coverage will be aided by your awareness of your level of risk.
Purchase flood insurance
Flood damage is typically not covered by common commercial insurance policies. Purchase a separate flood insurance policy through the National Flood Insurance Program (NFIP) or a private insurer to shield your company from flood-related losses.
Reducing Flood Risk
Install flood barriers, elevate electrical systems, and relocate priceless assets to higher ground as examples of flood mitigation measures. By taking these steps, you can lessen potential damage and insurance claims.
Document Flood Damage
If your company is damaged by flooding, make sure to thoroughly document it. Record all costs associated with cleanup and repairs, take pictures and videos, and keep a log of all expenditures. When making a flood insurance claim, this documentation will be crucial.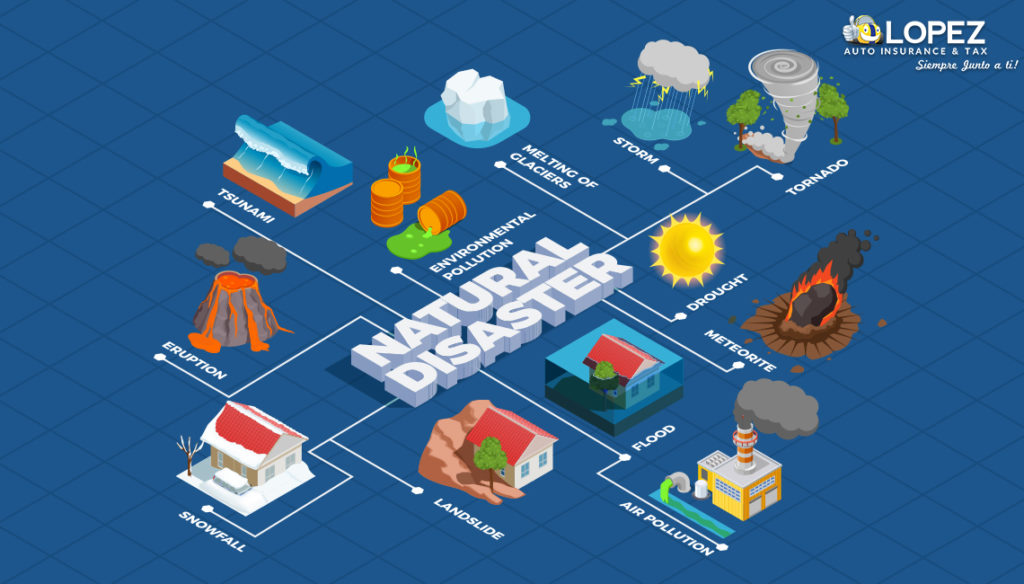 Always be prepared, including for additional natural disasters
Texas frequently experiences hurricanes and floods, but the state is also vulnerable to tornadoes, wildfires, and severe storms. This is how you can get ready:
Adapt Your Insurance Protection
Work with Lopez Auto Insurance to tailor your business insurance protection based on your particular location and any potential risks from natural disasters. Make sure your policy adequately covers all potential outcomes.
Create a thorough emergency plan
Make a flexible emergency plan that addresses a range of natural disasters. You should regularly update your plan in light of the lessons you have learned from drills and actual experiences, and you should train your staff on how to handle various emergencies.
Remain Informed
Follow any alerts or warnings issued by local authorities as well as weather forecasts. Real-time data can assist you in making quick decisions to safeguard your enterprise and personnel.
Examine and modify
Review your insurance policies and disaster preparedness strategies frequently to make any necessary modifications as your company expands or as new risks arise.
Lopez Auto Insurance is Your Partner in Preparedness for Natural Disasters
We at Lopez Auto Insurance are aware of the particular difficulties Texas businesses encounter in the event of a natural disaster. To ensure that your company is well protected against hurricanes, floods, and other unforeseen events, we provide specialized commercial insurance solutions.
Do not wait until a disaster strikes; get in touch with us right away to talk about your insurance requirements and develop a thorough disaster preparedness plan. We are here to help you protect your company and make sure it is resilient in the face of Texas's erratic natural disasters.
In the following entry of our blog series, we will go into more detail about the claims procedure and offer advice on how to handle insurance claims successfully in the wake of a natural disaster. Stay tuned for practical tips on handling insurance claims in Texas.
Conclusion
Natural disasters are an unfortunate reality in Texas, but with the right planning and insurance coverage, your company can fare much better. By being aware of your risks, tailoring your insurance, and working with Lopez Auto Insurance, you can protect your company from the unanticipated and make sure that disaster recovery goes more smoothly. Stay safe, stay vigilant, and keep reading this series of blogs for more information.